About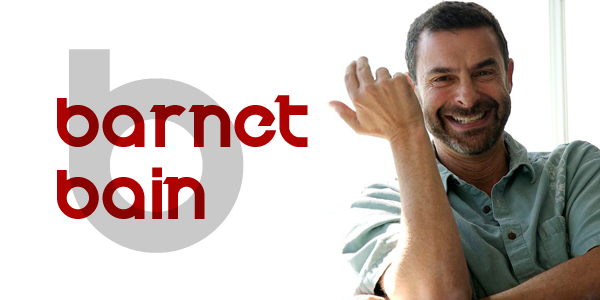 Owner:
Chance to Choice Solutions, Empowering passionate people with tools to create success
Barnet Bain Films, film and television production.
Co-host, "Cutting Edge Consciousness" radio and podcasts.
Fusing practical modalities from East and West I consult and train business leaders and private clients who are committed to high-performance with a focus on the 'Big 3 Challenges' of Health, Relationships, and Money.
I can be heard every week as co-host of "Cutting Edge Consciousness" radio on KTVA AM in Southern California.  Our show features thought leaders, entrepreneurs and visionaries from the worlds of culture, commerce and consciousness. (www.cuttingedgeconsciousness.com)
I am best known as an Emmy nominated television and film producer.  I was still attending the University of Westminster in London when I began my career in motion pictures working on such films as Bobby Deerfield, starring Al Pacino and The Water Babies with James Mason.
While in England I wrote my first screenplay, The Princess and the Pea, a Grimm Fairy Tale, starring cast members of the classic British "Carry On" comedies.
I next moved to New York where I produced television commercials and continued writing film scripts.  I wrote the screenplay for Jesus (aka The Jesus Film) which continues to set records worldwide and has been translated, to date, into 848 languages.  The New York Times (Sunday, February 8, 2004) noted the film may have become the most watched movie ever.  My recent work as Screenwriter includes The Celestine Prophecy.
I began my producing career in 1993 producing Conspiracy of Fear starring Christopher Plummer for HBO followed by six films for the Sci-Fi Channel including Timelock, Apocalypse and Dark Planet.
I went on to produce Oscar winner What Dreams May Come starring Robin Williams and Cuba Gooding Jr.  The movie garnered an Academy Award for Best Visual Effects and numerous other international awards.
In 2000, I produced Quantum Project, the first Hollywood motion picture to be developed and produced exclusively for global Internet distribution.  The film stars Stephen Dorff (Blade) and John Cleese (A Fish Called Wanda, Monty Python) and premiered May 5, 2000 over the World Wide Web.
I also produced The Celestine Prophecy movie.  The film features an ensemble cast including Matthew Settle, Hector Elizondo, Jurgen Prochnow, Annabeth Gish, and Thomas Kretschmann and was based on the #1 international bestseller by James Redfield.
My television work includes The Linda McCartney Story for CBS, and Homeless to Harvard: the Liz Murray Story for Lifetime Television.  Starring Thora Birch, Ellen Page and Kelly Lynch, the Liz Murray Story earned three Emmy nominations and I received a Christopher Award as well as an Emmy Award nomination for Outstanding Made for Television Movie of 2003.
Most recently I directed the foster family drama The Lost and Found Family.   The movie, starring Lucas Till (The Hannah Montana Movie) and Ellen Bry (St. Elsewhere) was acquired by Sony Affirm and Sony Pictures Home Entertainment and released September 2009.
I am currently preparing Buddha shooting in India and Nepal with director Pan Nalin.
My upcoming productions include Milton's Secret, based on the book by Eckhart Tolle and Robert Friedman, Illusions based on the classic novel by Richard Bach and directed by Zack Snyder (300, Man of Steel) and the documentary feature When I Was Young I Said I Would Be Happy: the Story of Project LIGHT Rwanda currently in post production.
I am the author of the forthcoming Book of Doing and Being, Simon and Schuster, 2015.
I was honored by Wisdom Media with the Worldview Award for using media and entertainment to promote spiritual values.
Producer: One who gives being, form or shape to.